After Twitter added fact checks into Donald Trump's tweets, the US President has signed an executive order targeting the social media platforms "preventing online censorship".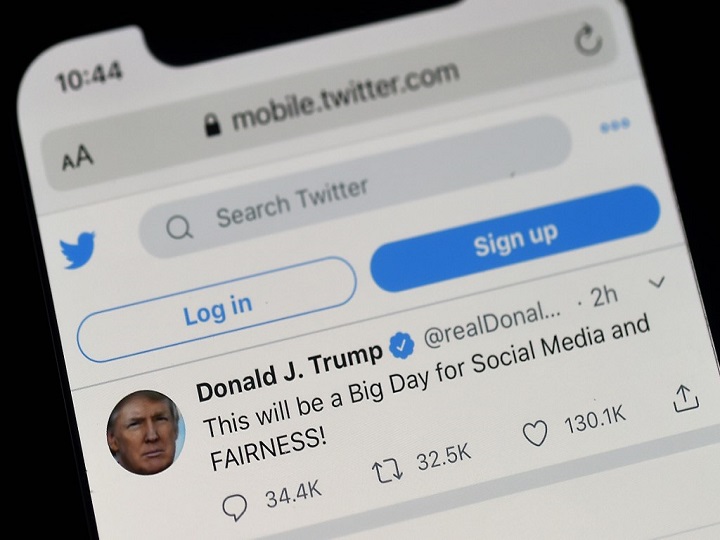 The twitter page of US President Donald Trump's is displayed on a mobile phone on May 28, 2020, in Arlington, Virginia. – Trump is expected to sign an executive order on May 28, 2020, after threatening to shutter social media platforms following Twitter's move to label two of his tweets misleading. (Photo by Olivier DOULIERY / AFP)
New Delhi:
Escalating his attack at social media companies, United States President Donald Trump, on Thursday (local time) signed an executive order aimed at increasing the ability of the government to regulate social media platforms, days after his brawl with micro-blogging  site Twitter.
As per a CNN report, Trump said that the moved was to defend free speech from on the gravest dangers it has faced in American history, ahead of signing the order.
On Thursday, as Trump stepped up his attack at Twitter for labeling his tweets as 'misleading',  CEO of Twitter Jack Dorsey defended his decision to highlight incorrect information about the upcoming presidential election. In series of tweets, Dorsey said that 'We'll continue to point out incorrect or disputed information about elections globally. And we will admit to and own any mistakes we make. This does not make us an "arbiter of truth." Our intention is to connect the dots of conflicting statements and show the information in dispute so people can judge for themselves. More transparency from us is critical so folks can clearly see the why behind our actions, he stated.
The order directs executive branch agencies to ask independent rule-making agencies including the Federal Communications Commission and the Federal Trade Commission to study whether they can place new regulations on the companies though experts express doubts much can be done without an act of Congress. Another section of the order would encourage federal agencies to review their spending on social media advertisin, news agencies reported.
The executive order tests the boundaries of the White House's authority. Trump has accepted that the order may face legal challenges, but expressed confidence that the government would do well.
"I guess, it is going to be challenged in court, what isn't? But I think we are going to do very well," he said.

"Today, I am signing an Executive Order to protect and uphold the free speech and rights of the American people." pic.twitter.com/agTIJ2KR6C


— The White House (@WhiteHouse) May 28, 2020
Facebook CEO Zuckerberg on Trump Vs Twitter:
Zuckerberg criticised Twitter for flagging tweets by US President Donald Trump,and has said that social media companies should not be the arbiter of truth. In an interview with Fox News, Zuckerberg called out his social media rival, saying Twitter should not be fact-checking Trump.
"I just believe strongly that Facebook shouldn't be the arbiter of truth of everything that people say online," he told the interviewer.
Zuckerberg also said Trump should not retaliate against social media companies.



Also Watch:Are social media companies becoming political parties?


(Inputs from agencies)